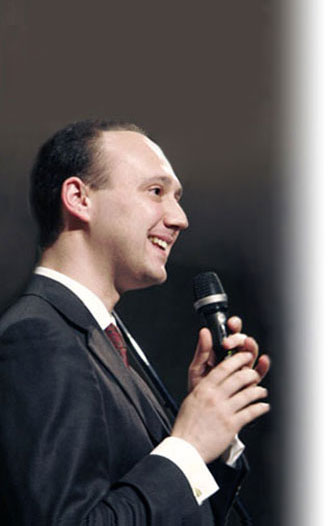 The Concert-Lecture

WHAT IS A CONCERT-LECTURE
As the term itself suggests, the "concert-lecture" embodies two concepts in one, performance and debate. This dual event works upon the public at two levels. In the first, the experience is one of pure sound-colour communicated by the performer according to his or her charisma and personal interpretative skills (indeed, according to the Romantic ideal, music is the supreme vehicle for communicating human emotion); in the second, it is human speech that conveys meaning through words which address our intellect, not our feelings, and this factor prompts a more analytical process of appreciation in the listener.
Consequently, the concert-lecture enables the listener to grasp and savour the same musical work from two different but complementary perspectives – on the one hand, the inward, subjective experience of listening, and on the other, the outward, objective process of analysis and theory. The experience can be likened to a guided tour of an art

gallery or exhibition, in which while the guide's commentary may provide insights and therefore influence the way we perceive the works in question, our own prior impressions of the works may find their explanation in the commentary itself, and vice versa.
THE AIM AND FORMAT
OF THE CYCLE
Each concert-lecture focuses on a central theme around which the works under discussion revolve. Before playing the entire piece through, various examples are played on the piano to illustrate the piece's themes, their development and structure. These examples are followed by a brief analysis of the technical, stylistic, and historical aspects involved, as we try to ascertain what the composer's personal circumstances and spark of inspiration at the time of composition. The analysis will draw on other disciplines, such as historical analysis, literature, philosophy, and art and music history, in order to place the piece in its cultural context, given that

the audience that is likely to be mixed, with music-lovers and aficionados, and not composed only of professional musicians.

DURATION
Every concert-lecture is about two hours long
Relater and pianist ADALBERTO MARIA RIVA
EQUIPMENT REQUIRED
A grand piano of good quality and in good condition. A microphone in the case of larger halls. Fees may vary according to the number of sessions selected from the overall program (one session alone is also possible).

Contact